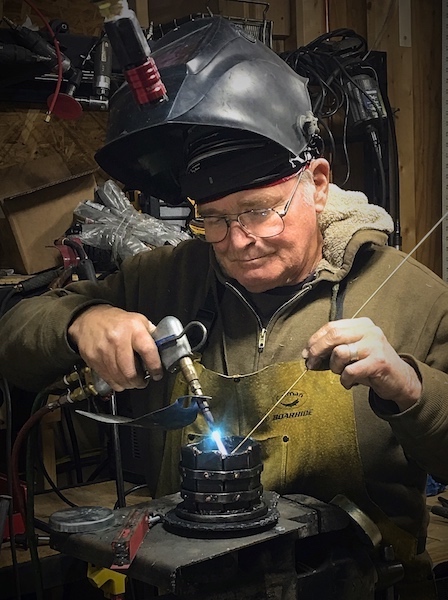 John Drury was born and raised in the foothills of the Appalachian Mountains where he spent countless hours exploring the countryside developing a keen appreciation and love for the beauty of nature, the people, and animals of the region. He constantly expressed his view of the world by sketching and painting. As the years passed, he concentrated in watercolors, pencil and charcoal, and metal sculpture.
John attended a small college nestled in the foothills of the Smoky Mountains where he continued his exploration of the natural wonders of the region. He graduated with a degree in Sociology and Secondary Education, and was immediately invited by Uncle Sam's draft board to serve in the military. Choosing to enter the Air Force, he served for over 20 years as a pilot, base commander, and State Department Representative at bases around the world. As his worldview expanded, he continued to produce award-winning watercolors and metal sculptures that have been exhibited and sold worldwide resulting in individual pieces of his work being included in private collections in numerous countries around the world.
After retirement from the military, John returned to the southern Appalachian region where he trained and practiced as a Family Nurse Practitioner until he was diagnosed with Non-Hodgkins Lymphoma. He retired from practice to undergo treatment and settled on a small farm where he and his wife rescue abused and neglected horses and Jack Russell Terriers. During his long battle with cancer, he spent many hours watching the rescue horses as they too struggled to regain their health. His admiration for the character and strength of these horses gradually focused his artistic expression on capturing the image and essence of the horse and the horse world. As he grew stronger, he developed a distinctive process of sculpting with horseshoes as a unique method for representing the beauty of the horse's bond to the wind and earth.
Many sculptors create their work by casting bronze in a mold, which allows numerous pieces of the same work. John begins each sculpture with an idea and bare metal—sometimes with new steel, sometimes with scrap steel he collects in his daily travels, but usually he starts with a mix of new and used horseshoes. After treating the steel horseshoes with acid to expose the bare metal, he forges them to a red-hot temperature and begins the process of bending, hammering, and twisting the glowing metal. He cuts, grinds and welds the forming shape, slowly transforming it into a real life version of the vision in his head. This process continues for days, weeks, and sometimes even months until he is satisfied with the emerging shape, flow and balance of his creation.
Some pieces are then brazed with copper and/or bronze resulting in a brilliant shine. Others are treated with any of a myriad of patinas or metal treatments, creating an infinite variety of finishes, each of which is totally unique. Finally, he meticulously polishes the metal before finally hand rubbing the steel with metal oil and his own formula of wax to preserve and protect his work.